IFC and Attijariwafa bank team up to support trade and investment in Africa
Posted on: 27 March 2018
By:

admin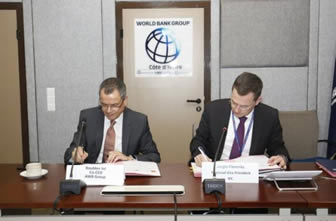 The Moroccan group Attijariwafa bank and the International Finance Corporation (IFC), World Bank's private lending arm, agreed to consider investment projects in Africa.
The partnership will mainly support investment and trade between North Africa and sub-Saharan Africa.
Moreover, the two partners commit to cooperate in financing, investment and risk management. The agreement also plans for support to businesses,notably SMEs in Morocco and Africa in general.
However, the amount that will be committed is not specified. Attijariwafa Bank welcomes the initiative that will allow the group to strengthen its African expansion with a strong institutional partner.
"Attijariwafa bank and IFC share the vision that a healthy private sector is crucial to creating jobs and driving economic growth," said Boubker Jai, The Moroccan bank's CEO.
Let's note that over the last 10 years, IFC has disbursed around $1.4 billion to support the investments of MENA companies in Sub-Saharan Africa.
Source: Ecofin Agency